10-Year Reunion Celebration
On Sept. 29-30, 2023, the Department of Economics welcomed MA Economics program alumni back to campus to celebrate the program's 10-year anniversary.
In July 2013, the Department of Economics at UT-Austin welcomed its first cohort of 36 students to the MA program. Since then, over 450 alumni have graduated – a group that now boasts Directors, Senior Managers, Policy Fellows, Senior Analysts, Data Scientists, Lead Data Engineers, PhD Economists, and professors.
To celebrate all that this program has become (indeed, all that our alumni have become), on September 29-30, 2023 we gathered at good ol' BRB for our 10-Year Anniversary Celebration.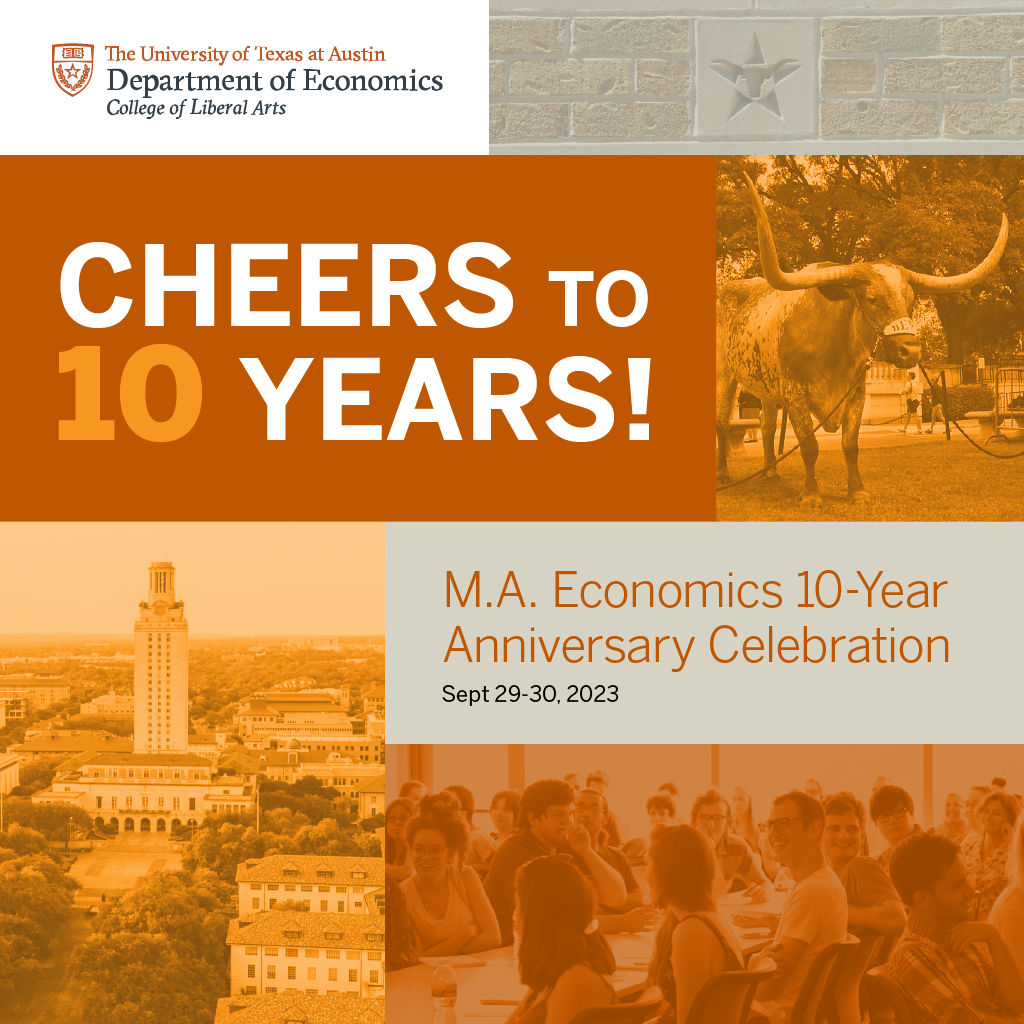 Schedule of Events:
Friday, 9/29:

1pm-1:15pm: Welcome and Program Update with Dr. Stephanie Houghton
1:15-2:00pm: Policy Panel Discussion, moderated by Larisa Barreto, '19

Adhishri Parikh, '15, Senior Policy Lead, Acumen, LLC
Eric Clover-Wadel, '18, Economist, Bureau of Labor Statistics
Anna Thom, '19, Policy Research Associate, Vanderbilt University

2:15-3:15pm: Academic Research Session moderated by Dr. Jason Abrevaya

Dr. Alan Lujan (MA '17, PhD Ohio State '23, Visiting Assistant Research Professor at Johns Hopkins) presenting his work on "Sequential Endogenous Grid Method" for solving heterogenous agent models
Dr. Marissa Lepper (MA' 17, PhD Pittsburgh '23, Assistant Professor at Texas A&M) presenting her work on "Excuse Based Procrastination"

3:30-5pm: Private Sector Panel Discussion, moderated by Carl McClain, '18

Ryan Mills, '14, Expert Engagement Manager, McKinsey & Company
Kristie Tingle, '15, Program Manager, Global Response, Meta
Saman Banfti, '17, Economist, Amazon
Lukas Facile, '20, Data Scientist, Moody's Analytics

Friday, 9/29, evening: alumni gathered by cohort year for happy hour and dinner with friends.
Saturday, 9/30

12:30-2:30pm: tailgate party outside BRB complete with El Arroyo Tex-Mex.
We enjoyed welcoming our alumni back to campus to celebrate this 10-year program milestone. Cheers to the next 10 years of the program!
Special thanks to our organizing committee: Ryan Mills – MA '14, Carl McClain – MA '18, Larisa Barreto – MA '19, Simran Mehrotra – MA '20, Akhil Jonnalagadda – MA '20, and Karlo Vlahek – MA '22