WHAT STARTS HERE CHANGES THE WORLD
---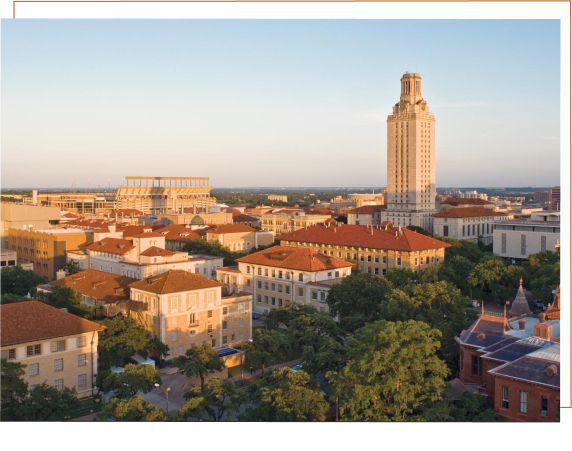 The MA program offered by the Department of Economics is STEM-designated and offers a rigorous curriculum with quantitative training in economics. We have a strong track record of preparing and placing students in highly-ranked PhD programs, as well as in careers that require advanced tools in economic analysis, econometrics, and data science. Students receive one-on-one mentoring and advising to help them achieve their academic and professional goals. That's why our program is now one of the top ranked terminal Economics master's degree programs in the U.S., at one of the top ranked universities internationally. And there is no better no better city than Austin to live in while pursuing graduate studies.
Accelerated Degree
You can complete the MA Economics degree in as little as 10 months (July through May), while developing skills in economic analysis and data science.

World Class Faculty
You will have the opportunity to study with the Department's world-class faculty. We limit our cohort size to keep classes small and to facilitate interactions outside the classroom.

OPT Extension
The program's STEM designation means that international students may receive a 24-month extension of Optional Practical Training (OPT) for employment within the U.S.
The MA program is suitable for students with
any of the following goals:

Qualifying for jobs in the private or government sector that require greater expertise in economic, analytical, and statistical tools than provided by an undergraduate degree;

Obtaining the background in economics and mathematics required to gain admission to a high-quality economics PhD program;

Studying economics as a complementary field to another area of expertise (law, political science, public health, statistics, energy, marketing, sociology, finance, etc.).
Important Dates
---
APPLICATION OPENS
September 2023
---
APPLICATION DEADLINE
February 1, 2024
for international applicants
March 1, 2024
for domestic applicants
We will accept late applications if space remains in the cohort.
---
CLASSES START
July 15, 2024
---

Testimonials
---
The program allowed me to expand on both my theoretical knowledge about economics, statistics, mathematics, and also helped me become adept at applied research tools like Stata, R etc. The program helped me push my boundaries and strive to do my very best in every course. I'm now a well rounded professional and I give all thanks to the supportive faculty.
Aishwarya Agarwal, Class of 2018
For someone coming from a non-economics background, the MA program gives you a good exposure to all major areas of economics, which is great to figure out your probable areas of interest for a PhD program. The small cohort size facilitates frequent interactions with the faculty which is a definite plus.
Swapnil Motghare, Class of 2014
I was admitted to another top-ranked Economics master's program as well, but their program just didn't offer the personal attention, sense of community, exploration opportunities (research seminars, etc.), and warm climate that UT's M.A. Economics program offers.
Isaac Hulsey, Class of 2020